FIFA 19 Account News & Guides
FIFA 19 Graphic Comparison among PS4, Xbox One and Nintendo Switch, which wins?

Xbox One Games
PS4 Games
PC Games
Sports Games
2018-10-15 09:02:40
FIFA 19, the most anticipated football simulation video game is officially unveiled on September 28 on various platform including
PS4, Xbox One, Nintendo Switch, Microsoft Windows and so on.
Many players may feel difficult to select which platform, since each platform has its own advantages and disadvantages and everyone has its own requirements. However, graphics plays a very important role when you play the game. After all, high image quality brings you more authentic and exciting football experience. In this article, we will dive into the
graphics of PS4, Xbox One and Ninden to Switch
to help you make a better choice if you are uncertain among them.
The graphics simply refer to the quality of a picture. It includes clarity, sharpness, chromatic dispersion, resolution, color purity, color balance and so on.
PS4 and Nintendo Switch
First let's look at PS 4 and Nintendo Switch. To make a clearer distinction between them, you can check the graphics comparison video above.
After watching the video above, from the point of view of color purity, or colorful degree, we can see that Nintendo Switch has higher purity and brighter colour. Personally, it is more pleasurable to view. From the perspective of clarity, there seems to be no big difference of clarity between two platforms.
PS4 and Xbox One
Next, let's see the following screenshots of some scenes for the graphic comparison between PS4 and Xbox One.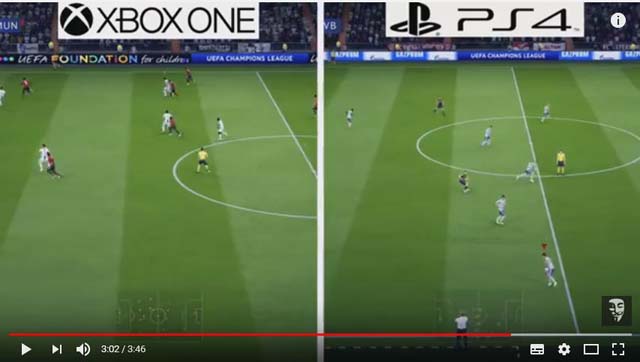 As you can see from the above pictures, there is no big difference between the clarity of Xbox One and PS4. Larger pictures are clearer and smaller pictures can be improved. We can hardly tell which player is passing the ball from a small picture. The position of the ball also needs careful observation. From the point of view of color purity, or colorful degree, the Xbox One is a little better, the frame is more colorful and the contrast is a little stronger. However, it is worth noting that all the screenshots decreased the quality of graphics, in fact, the video is clearer than the screenshots. Because in the video, we can experience the picture fluency and the continuity of player's action from the video.
However, comparing with other platforms, the Switch is still very much the inferior version compared to its console brethren, since the game is still not utilising EA's renowned Frostbite engine, so not only does it play differently with absent modes like The Journey. With your attention, you can buy
Cheap FIFA 19 Coins
at our website:
eacgame.com
, a cheap online in-game currency store. Even though an argument could be made that Nintendo Switch allows you to play virtual football on the go, so the downgrade in graphics is a obvious advantage. we're still finding it hard to say that the Switch is our go-to platform for FIFA games.
Besides, according to some statistics, FIFA is the number one game with 64 per cent of units sold on PS4, 35 per cent on Xbox One and just 1 per cent on Nintendo Switch. Considering the sale number of Switch, we would wonder that FIFA 19 may be the last FIFA game we could see on the Switch. Of course, it would be very sad to see such situation happen.