NHL 19 Coins News & Guides
Golden Knights' Chance Will be the Newest Mascot of NHL 19

NHL 19 Guide
Xbox One Games
PS4 Games
EA Sports
Golden Knights' Chance
the newest mascot
2018-08-01 09:17:13
Last week,
Golden Knights' Chance
made his video game debut for
NHL 19
. In other Words, we can say Golden Knights' Chance has become the newest mascot for NHL 19 officially. Later, Chance also responded and acknowledged this news on his Twitter.
Maybe someones of you will ask What the Golden Knights' Chance is. And now, I will introduce it for you.
The Vegas Golden Knights mascot, Chance, is not a dinosaur, not a gekko or a yellow version of "The Thing" from the "Fantastic Four" comics. Chance is a
gila monster
. Although it may be called a monster, it is actually a lizard. It is one of just two known species of venomous lizard in North America. They are usually orange and black or pink and black, but Chance obviously matches the NHL team's colors. When we talked about Las Vegas, the image of neon lights and casinos may be the first things that come into our minds. However, in fact, the state of Nevada is a largely desert, in which, a portion of the Mojave, the driest desert in North America is included. So there is the ideal living condition of gila monster, Chance.
The Golden Knights could have made the obvious decision of choosing a knight in armor as the primary mascot (hard pass), but instead they chose to go off the wall and tailor their mascot to the surrounding Mojave Desert. Chance is so different!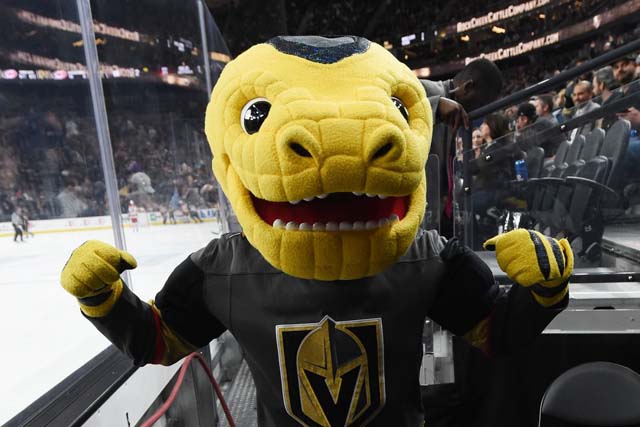 According to the San Diego Zoo, which houses some of the reptiles, the gila monster's bite is very painful to humans, but not fatal. Gila monsters usually avoid humans and larger animals. They use an open-mouth hiss to try and ward off potential predators. We're confident that Chance won't bite or hiss at anyone, though. He's a friendly gila. In addition, not known for their speed, gila monsters are excellent climbers which can be helpful in tracking prey. In 1952, the gila monster became the first venomous animal to be given legal protection as the species is classified as "Near Threatened" by the International Union for Conservation of Nature. They typically live 20 to 30 years.
Chance may not even be a year old yet, but he's already established himself as one of the
NHL's best mascots
. And in
NHL playoff edition
, Chance's power rating has arrived at third rating. It is said that the mascot Chance shocked the hockey world regardless of on and off the ice. And so far, Chance is worked out pretty well. He not only play a role in the
pregame festivities
at Knights games, but he is also a Twitter warrior. Just as we have known, Chance often release some news on his Twitter to get more publicity for something.
Now,
NHL 19 will be available worldwide on Friday, Sept. 14
. We still have over a month until EA Sports' NHL 19 hits the shelves. As the mascot of NHL 19, the Golden Knights' Chance will also meet us for NHL officially in a no long time. And if you want to buy some
Cheap NHL 19 Coins
, I think our
eacgame.com
is your best choice for the
payment and the transaction on it is 100% secure and fast
! By the way, if you have any question, you can contact us anytime.