NBA Live 19 Coins News & Guides
The Custom Female Players and Mixed-Gender Teams Will Be Allowed in NBA Live 19

NBA Live 19 Guide
Xbox One Games
PS4 Games
the Custom Female Players
Mixed-Gender Teams
2018-07-31 09:13:49
A few days ago,
EA Sports
announced that its new game-
NBA Live 19
will allow players to create
custom female players
for the single player story mode, called
The One
. And meanwhile, the
mixed-gender teams
will also be agreed to be built. This is the first time that women will be able to take the center stage in a basketball video game. This pioneering work of NBA Live 19 take a really huge step for the development of female role in basketball video games for which has been ignored or diminished all the time.
As we all know, the major basketball video games have two brands: One is EA Sports' "NBA Live" series, and the another is
2K Games' "NBA 2K"
series. Both of these two games are set in the NBA, so it is naturally that both of these two games have no female players for their high validity.
However, the people who like to play basketball are not always boys. If we go out and to the basketball court, we can find that nowadays, there are many girls who are also liking to play basketball very much. So, in order to attract more attention from female,
12 WNBA Teams
were be added into
NBA Live 18
for the first time by EA Sports.
And now, with the increase of the heat of WNBA, in this year's NBA Live 19, EA S ports decided to allow players to create custom female roles in the function of
create-a-role
. EA Sports expresses that this is the first time a basketball game has allowed players to customize female characters; and through the
Android
or
iOS NBA Live Companion software
, just as male players were previously able to model characters after themselves by scanning their faces, female players will be able to do the same. Besides, NBA Live 19 also added some new Icon Abilities modeled after some of the best women in basketball such as
Candace Parker
.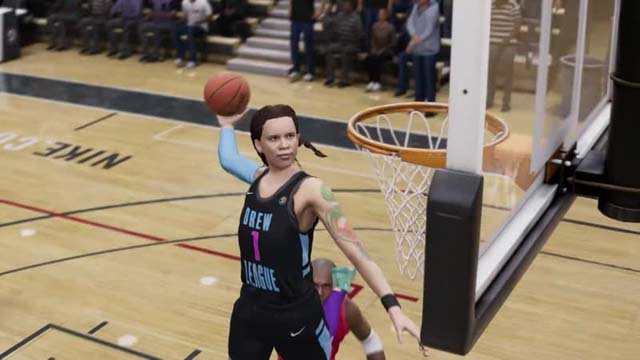 Basketball is a sport for people all over the world, and there is no reason to exclude half the world's human beings. So it is a normal game idea to create female players and make them play with male players.
In NBA Live 19, after ordering female characters, users can use them in
The One career mode
of NBA Live, which allows them to exercise like male characters, change shoes and join teams. In The One mode, male and female players can play together, which is also known as mixed-gender teams.
NBA Live 19 will be available for fans on Sept.7 on PlayStation 4 and Xbox One.
As a female basketball fan, I am looking forward to creating a female role for myself and more female characters are also be expected by me to see in the game so I can make many friends with the same interests.
By the way, the
Cheap NBA Live 19 Coins
are provided by our
eacgame.com
all the time. So if you want to buy NBA Live 19 Coins, please contact us or you can enter our website directly!