NBA Live 19 Coins News & Guides
The Introduction of Top 7 Rookies in NBA LIVE 19 : Ayton, Bagley, Doncic, Young, Jackson, Bamba & Porter

NBA Live 19 Guide
Xbox One Games
PS4 Games
Rookies
Ayton
Bagley
Doncic
Young
Jackson
Bamba
Porter
2018-08-14 09:05:45
With there being less than one month until the release of
NBA Live 19
, recently,
EA Sports
has continued posting NBA Live 19 player ratings, including the ratings of the rookies this year. Today, we will take an inside look at the top rookies in the game.
Firstly, let's see the list of these
top seven rookies in NBA Live 19
.
DeAndre Ayton (84 OVR), Phoenix Suns
Marvin Bagley III (82 OVR), Sacramento Kings
Luka Doncic(81 OVR), Dallas Mavericks
Trae Young(81 OVR), Atlanta Hawks
Jaren Jackson Jr.(81 OVR), Memphis Grizzlies
Mohamed Bamba(81 OVR), Orlando Magic
Michael Porter Jr.(80 OVR), Denver Nuggets
We're going to break these players down in the order presented above – it all starts with the number one pick.
DeAndre Ayton
played the part of a future star this summer but was really the undoubted number one selection halfway through the college season. He's big, powerful, has an array of polished moves to utilize on offense, and, while his defense is still a work-in-progress, could wind up turning into a
solid shot-blocker
with the right development. With an
84 OVR
, Ayton is ahead of the pack to start off his career in NBA LIVE 19.
Just like the draft,
Bagley
takes the number two spot after one of the greatest college seasons we've ever seen from a numbers standpoint. When you watch Bagley, you instantly notice his ability to jump out of the gym, but he's made even better by his fluidity while running the floor as well as his nose for the ball whenever he goes up for a rebound.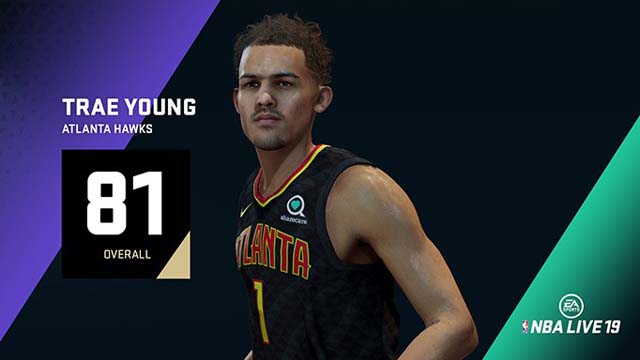 Luka Doncic
, the third pick in the draft is tied with a host of other players sitting at
81
, including the guy who he was swapped for on draft day,
Trae Young
. Both point guards already have skill sets that seem to translate but present different polish heading into the NBA. That being said, while Doncic may be the more complete player of the two, Young will come into the league with unlimited opportunities for the Hawks who just traded away their starting point guard and a heck of a shooter – a talent that seems to always carry over to the next level.
Jaren Jackson
is a dark horse to win Rookie of the Year. Typically, bigs don't seem to win it unless they put up gaudy numbers, but Jackson has one of the highest ceilings in this draft and that's evidenced by summer league games with seven blocks, another with eight made three-points, and multiple where he made the hustle plays that either saved a possession or set up another player for a break. The
Grizzlies
found a gem in Jackson and I'm going to be looking for him to slide under the radar all the way to an all-star appearance a few years from now.
Mo Bamba
is clocked into the combine with a legit seven-footer and a seven-foot-ten wingspan. Although he has a skinny frame, it do not influence him to led almost all big men and many forwards in drills that required foot speed, such as the shuttle run – essentially, he can switch onto some guards on defense without missing a step. His offensive touch around the basket, mixed with blossoming fluidity, is actually quite impressive and he has a pretty good shot IQ, too.
Last on this rookies' list is
Michael Porter Jr.
Porter came into last year's college basketball season as the assumed top selection – when he went out with a back injury almost as soon as he stepped onto the court, his stock plummeted. While it crept back up leading to the draft, he faced a massive slide draft night. Even if we didn't get to see much of his game in college, the
Nuggets
could've hit a home run if we're evaluating based on Porter's talent.
NBA LIVE 19's demo is available on August 24 and the full release happens September 7
. Be sure to hop on the sticks with these guys and really build the future of your franchise as they continue to develop on the court and in the game!
As the ratings of these excellent rookies get a promotion, the coins that you should spend to buy the cards of these rookies are also get a promotion. If you want to buy
Cheap NBA Live 19 Coins
,
eacgame.com
is a good choice for you with its with
guaranteed refund, 100% secure payment and satisfactory service, fast delivery and unprecedented discount
!