Madden Mobile Account News & Guides
How to Gain The Best Players And Build A Unstoppable Team in Madden NFL Overdrive

Madden Mobile Guide
Mobile Games
Madden NFL Overdrive
Madden NFL Overdrive Guide
Madden NFL Overdrive Features
2018-11-02 08:42:23
Madden Mobile is the annual NFL game made by EA designed specifically for smartphones and tablets. It is a routine that EA Sports would release the mobile version of Madden before the full release of the Madden NFL series. This year, an all-new NFL mobile game,
Madden NFL Overdrive
comes out with great updates and takes the place of the original Madden Mobile. Despite of new uodates, it is still all about
building up a team of players and competing against others
. You acquire players and coaches via several different means, and you'll take that team into real-time head-to-head matchups against real opponents. So today, our website:
eacgame.com
will provides some tips and tricks for how to gain the best players and build a perfect team to help you get the upper hand on the pitch.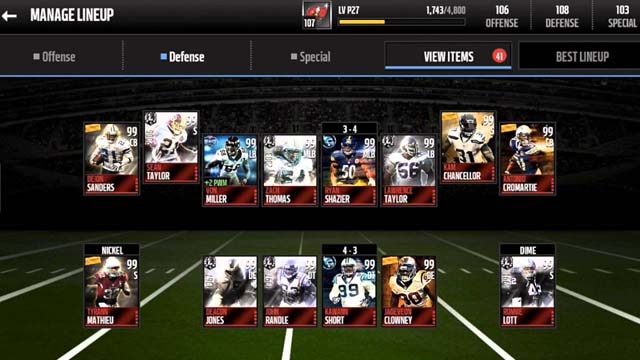 How to gain the best players
Perhaps, the quickest way and easiest way to gain best players is to open packs, by which you can almost always get at least a couple of better players who can upgrade your team. Many of the player acquisition concepts are the same as from previous seasons of Madden Mobile, including some packs that offer you a choice of multiple players with the same overall rating and different versions of the same player so you can pick one that fits your desired scheme.So you have to earn enough coins and Madden cash. If you're looking to earn coins quickly, target the easy Season Achievements first, since they are not particularly difficult and rewards you a decent amount of coins. Another way to gain the best players is to acquire Elite players and then train them up to their maximum level of overall stats with Training Points .For gold or better players, you can gain Training Points by participating in Daily Blitz Events which reward you straight up with Training Points. Besides, you can gain mics, a kind of a catch-all currency of sorts, from other events to exchange for Training Points in the Store. You can buy
Cheap Madden Mobile Coins
from our website:
eacgame.com
, a trustworthy online in-game currency store.
How to build the best team
If you are new to this game, at first, you can build their team using pretty higher overall rating players for every position. Then after taking part in some matches, You can upgrade certain positions such as QB, HB, TE, WR for the Offense and CB, S, DE, LB for the Defense, while ignoring other position that aren't too important such as O-Line, DT, Special teams squad by judging on whats the most important positions that play huge part in their game. After you build your own team, Make sure to regularly check your team lineup screen to see the OVR ratings for all of your players and identify any positions you need to shore up. Besides, power rating also matters for a team. The total power level of each team is compared at the beginning of each Overdrive game, and the team with the higher power usually gets a stat boost that affects its entire lineup. You can improve the power rating of the team by using Training Points to improve the power level of players in the team. Now we're wrapped up with this Madden Mobile guide, for more on Madden NFL series, stay tuned for our website:
eacgame.com
.