FIFA 19 Account News & Guides
New Skill Moves in FIFA 19 and Here Are Some Tips and Tricks for Mastering Them

FIFA 19 Guide
Xbox One Games
PS4 Games
PC Games
2018-10-18 08:29:54
There are about
100 Skill Moves in FIFA 19 Ultimate Team
. And according to FIFA 19 official site, this year,
9 new skill moves
have been added to Fut 19. Some of them are quite difficult to pull off and need a lot of practice, while other might be pretty easy for you if you are a experienced FIFA player. Now in this article, we
eacgame.com
pick some classic moves and other game changing skills, along with all the new tricks as well as instructions for those classic skill move in FIFA 19 for a bit of guidance.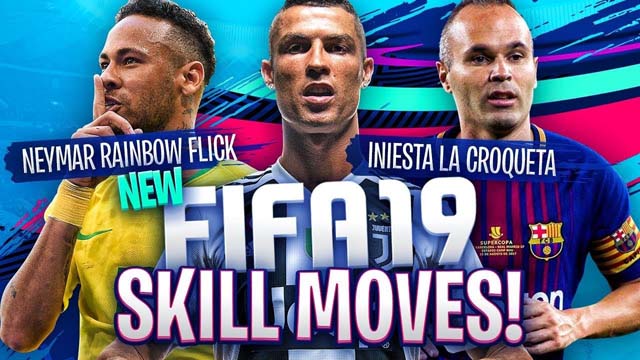 Winning matches in FIFA 19 is a difficult business. Gamers would do whatever they can to win the game. Mastering some useful and classic skills will get an advantage over other players. At first, skills can seem daunting and difficult. However, as long as you can try them out in the Practice Arena or against offline opponents to get to learn them. One day, you will get the better of those skills over your opponents and win against your opponents. Players also play an important role in the match. If you want to unlock the best players for your team, buy
Cheap FIFA 19 Coins
at
eacgame.com
, a cheap online in-game currency store.
Nine new skill moves have been added to FIFA 19. Some of these are minor improvements on old ones, while others including Neymar's Rainbow Flick, the Franck Ribery Flick and Andreas Iniesta's La Croqueta are all new and can be game-changing if used correctly.
Neymar Rainbow Flick
The Neymar Rainbow Flick can only be pulled off by Neymar himself, otherwise the player will just do a regular rainbow flick. So in order to perform the move, all you need to do is perform a regular rainbow flick, flick the right stick towards the back of the player, and then flick it twice towards his running direction.
Ball Roll Sombrero Flick
All you need to do is press the right stick of your controller to the left or to the right of the player to do a ball roll. And while doing the moves, make sure to click the right stick in order for the player to perform a sombrero flick.
New Fake shot
You can do the fake shot with anyone on the field. FIFA 19 Fake Shot is better than FIFA 18 Fake Shot. The player on the ball performs the move extremely fast, and the defender in front of you has no time to react properly. You can use either friction variation, because both of them are absolutely incredible. You can perform the regular fake shot variation by holding down Square + X in them, use the left analog to exit the move in any direction, the second fake shot duration is the new opener fake shot added to FIFA 19 in by EA. It's quite easy to perform the move. Hold down the L on LB button of your controller and then do a regular fake shot. The new fake shot is a bit faster than the regular move, but overall, both variations are extremely efficient to use anywhere on the field.
Iniesta's La Croqueta
Press and hold L1 on your PS4 controller (LB on XBOX), and move the right analog stick to the left or right of your player, depending on in which direction you want to travel. Your player will perform an effective fake and shuffle, switching direction and flummoxing any defender who stands in your way.