NBA 2K19 MT Coins News & Guides
Advanced NBA 2K19 MyGM Guide for New Beginners

NBA 2K 19 Guide
NBA 2K19 MyGM Guide
NBA 2K19 MyGM Mode Tips
2019-06-24 08:49:04
MyGM Mode tasks players with running a team and make it in the NBA world.
You will have to make all kinds of decisions, deal with staff, allocate your money and resources efficiently, deal with unexpected quick-fire events and so on. It is difficult and complex, and if you are looking for advice, here's what exactly you need.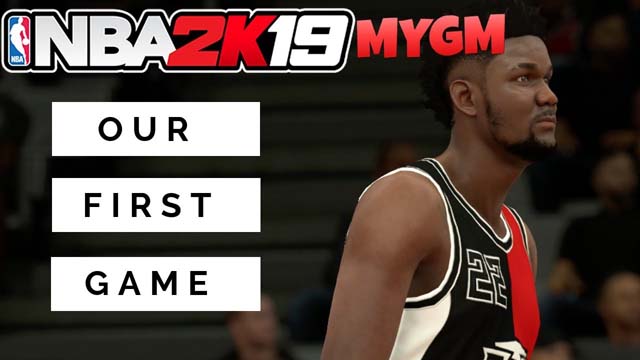 Thanks to Redditer kimjixon, here are pro tips on NBA 2k19 MyGM:
1. Game set-up – HOF difficulty, put max 100 to contract sliders for both min and max, game speed to 70, reach-in foul frequency to 48.
2. Big income - Choose a big city with big income and population (I suggest Long Beach or San Diego CA)
3. Answer big city attracts big free agents will give you a boost +insightful (I think it will give you 2/3 pts)
4. Getting Hassan - Always choose a smart answer in all the questions/conversations that will give you (+insight) and make sure to win the summer league game vs Andrew's team (do not sim to end). Then once you have your conversation with Hassan he seems to be friendly with you (that's a hint that likes to join your team)
5. Branding Guru - answer is 3 then next questions is deck of cards.
6. Leak is Lenny (you may either fire him or not) if you fire him sign a 2/3 year trainer as there's 1 beast trainer you will see after 2/3 season.
7. NBA Draft picks - choose the answer legacy option and helping us hurts your rivals to get the 1st and 2nd overall pick for the first and second round
8. Expansion draft – Get Hassan (good trade value), then get best available young with +75 up ratings ratings then follow with the veterans (make sure you get players that has unexpired contract to be used in trading draft picks)
9. NBA Draft – before going to the draft make sure to trade draft picks using your current pool of players and do the following
· Trade your 1st round pick for Devin Booker (SG 88 rating with low salary and soon to be RFA) and trade for their 2019 pick as well. If you don't have money for trade,
Cheap NBA 2K19 MT Coins
are on sale at
Eacgame.com
, a professional online in-game currency store.
· Trade draft picks as much as you can from pick 2 to 18 and target at least 2/3 2019 first round picks (suggest get Mavs, Sonics, Suns or Heat)
· Get a young guard with pass first and defensive ability (I traded for Lonzo Ball still with rookie salary)
· Get shooters from the draft (I drafted Jaren Jackson Jr and Muza) and traded all the other draft picks to get 2019/2020 picks
10 Getting Lebron – choose give me your hat/I will give you this hat or need to make him LeGM and will make you LeGM
11 NBA free agency – you may get Paul George at around $21-24M (but you need to trade away Hassan) I would suggest to get these players (Darren Collison, JJ Redick, Nerlens Noel (with pick-pocket badge), bigs that has a pick and roller badge/rebounder and defensive stopper and all shooters with defensive ability (as your coach has a pick and roll offensive attach. keep Hassan and trade half-way to Clint Capela.
12 NBA line-up - because of my line-up the team was unstoppable and I was on the top of the GM rankings.
· PG – Lonzo 83 (set the training to playmaking) 15+ assist per game
· SG – Devin Booker 88 (set training to SG offensive) almost 30+ average pints per game
· SF – Lebron 98 (set training to SF all-around or offensive) 28+ pts, 11+ asts, 10+ rebs per game
· PF – Jaren Jackson Jr 78 (set training to PF defensive) 17+ pts and 4+ blk per game
· C – Hassan Whiteside 86 (set training to C rebound) 15+ pts and 18+ rebs per game
· Role players (D. Collison, JJ Redick (traded to Josh Hart half way), Nerlens Noel, Michael Beasley (traded to P Collins (81) half way, Patrick Beverly, Alex Len, Trevor Ariza, Nick Young, Muza (sent to G-league) forgot the others
· Loaded with 3 2019 first round picks from Sonics, Mavs and Suns
13. Second season (just draft for Patterson 1st pick and Omari Akua (which you can get late first round 25-30) there's a bug in getting Omari which tell you that he signed to a different team (best solution is just trade for him again he has a 99 potential)
14. Second season free agency (target Klay Thompson or Kawhi Leonard) shooters with defensive ability
15. Third season free agency (get Anthony Davis and make him your center while you are still on the process to train Omari Akua)