NHL 19 Coins News & Guides
Collision Physics of New "Physical" Trailer for NHL 19

NHL 19 Guide
Xbox One Games
Collision Physics
EA Sports
2018-07-24 09:20:47
Recently,
EA Sports
released a
new physical trailer
for
NFL 19
, which is designed to show off the physicality of hockey in a new light that people may not be used to and to highlight the sport's toughness. The trailer includes their latest
collision physics
to make every hit feel like a real hit on the rice. The subject of the minute-long trailer, also one of the major new features this year of NHL 19 is the "
Real Player Movement Tech
", a new movement and animation system that strives to have players skating around the ice the way they would in real life.
That is to say, collisions in NHL 19 are realistic, impactful, and fun. Thanks to a reinvented physics system that overhauls how checking affects gameplay, hits react to speed, angles, and skater physicality, bringing you an experience that looks better with new animations, and feels even better thanks to responsive controls.
And now, we want to tell you how Collision Physics make NHL 19 a true-to-life hockey experience.
Power like P.K.
Take control with authentic hits that send shock waves across the rink, commanding the physical side of the game. With new thrown-hit animations, unique limb tensions, and sensitive awareness of angles and speed, NHL 19 Collision Physics provide a variety of impacts that recreates the electrifying style of players like
P.K. Subban
.
No Two Hits are the Same
If you do catch your opponent with a collision, then you'll notice thrown-hit animations that look more realistic and impact directional movement. How you throw a check is changed by the speed and angle of the collision, as chasing a skater from behind and pushing them will create very different collisions than a
standstill shoulder
check will.
Part of the variation in hit outcome has to do with unique limb tension and physicality, as NHL 19 Collision Physics allow for accurate distribution of force across the human body. Limbs, muscles, and joints now absorb force in ways you'd expect, as big collisions cause skaters to fold up like they would in real life. This applies to both skaters involved in the collision, as you'll retain body position while checking your opponent along the boards, as opposed to bouncing right off of them.
You'll also want to be aware of the relative angles between players involved in a collision, as this has an impact on force distribution and the resulting hit animation. Catching your opponent square to the center of their body will produce a much different collision than simply catching a piece of their shoulder, as angles, speed, physical tension, and thrown-hit animations all work together to produce limitless variations in hitting.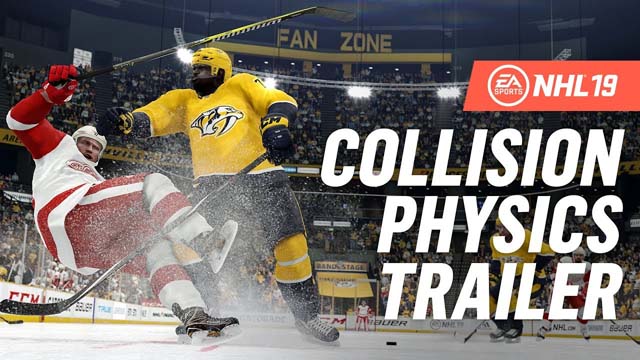 It's kind of cool to check out this mechanic to the game, especially since EA Sports haven't really gone out of their way to hype the game that much since the announcement last month. It would be nice to see more videos like this for NHL 19 as we ramp up to the game's release on
PS4
and
Xbox One
on September 14th.
The
cutting-edge animation gameplay technology
, Real Player Motion Tech, comes to EA SPORTS NHL.
RPM Tech
delivers explosive-edge skating, enabling more control, acceleration and responsiveness up and down the ice. RPM Tech combines with brand new physics collision technology that makes jaw-dropping hits more life-like, varied, and satisfying. NHL 19 looks better, plays better, and feels better with two all-new tech systems delivering a more complete on-ice experience.
All in all, just like the trailer showing, NHL 19 is an actually good game which is deserved for us to wait and try. NHL 19 is available to hockey fans worldwide on September 14, 2018 for Xbox One and PlayStation 4. Be first in line to compete from the pond to the pros, unlocking the full game three days early on September 11, 2018 when you
pre-order
the NHL 19
Legend Edition
or the NHL 19
Ultimate Edition
.
And we
eacgame.com
could provide you
Cheap NHL 19 Coins
with
100% safety, the fastest delivery, guaranteed refund and 99.9% satisfaction
. By the way, if you have any question, you can contact with us anytime!