NBA 2K19 MT Coins News & Guides
The Differences Between NBA 2K19 20th Anniversary Edition and Standard Edition

NBA 2K19 Guide
NBA 2K19 MT
20th Anniversary Edition
Standard Edition
2018-07-23 09:01:31
NBA 2K19
was officially announced on June 5, 2018 and it will be released on September 11, 2018 for
Microsoft Windows, Nintendo Switch, PlayStation 4, and Xbox One
. So it will be the first game in the series since NBA 2K6 (Xbox 360) and NBA 2K7 (PlayStation 3) to not be released for either platform. The players who pre-order the
Anniversary Special Edition
will receive it on September 7, 2018. That is four days earlier than the
Standard Edition
. Today, I would like to talk about the differences between the 20th anniversary special edition and the standard edition in detail.
First of all, the difference is located on the
cover
. On the one hand, the cover athlete of the Special 20th Anniversary Edition was revealed in June and who is Cleveland Cavaliers superstar and the NBA's best player
LeBron James
. This is James' second time on the cover of the game NBA 2k series because he also appeared on the cover of
NBA 2K14
, maybe which marked the introduction to the current generation of consoles. James said, "It's humbling to be on the 20th anniversary cover of a game. I've played and loved since I was a little kid. We were able to do something really unique for the cover that represents everything that drives me and inspires me- from my family to where I come from and words I live by. I'm honored my journey can be part of this special time in 2K history and I'm excited for fans to see it."
On the other hand, the Standard Edition cover was revealed at a later time, and that's probably a good thing because a traditional look could easily get washed away if it were revealed to close to the Special Edition. The cover athlete of Standard Edition was revealed on July 3
rd
, 2018 and who is
Giannis Antetokounmpo
of the Milwaukee Bucks. He is also called
Alphabet 2.0
by his fans because his name is too long and difficult to read.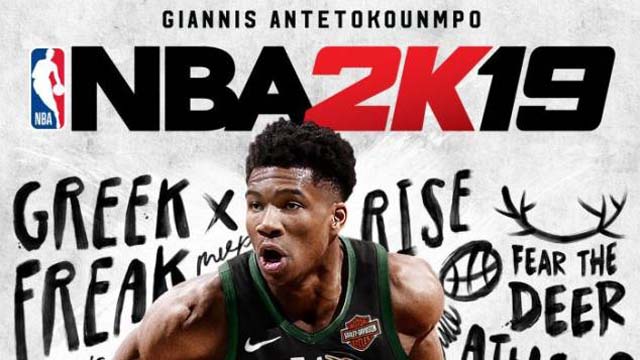 And then, let's come to talk about the differences of
digital items
between Special 20th Anniversary Edition and Standard Edition.
The Special Edition of NBA 2K19 will cost
$99.99
. Aside from the James cover, here is a look at the items that will be included:
100,000 Virtual Currency;
50,000 MyTEAM points;
20 MyTEAM League Packs (delivered one a week)
Sapphire LeBron James MyTEAM Card;
10 MyTEAM Heat Check Packs (delivered one a week beginning at the start of the NBA season)
5 LeBron-themed murals for MyCOURT;
LeBron MyCOURT design;
King's Collection - Nike LeBron apparel & footwear (25 pairs)
The Standard Edition will again retail for
$59.99
and it will be available for the same set of consoles. The NBA 2K19 Standard Edition includes the following digital items:
5,000 Virtual Currency
10 MyTEAM League Packs (delivered one a week)
Sapphire Giannis Antetokounmpo MyTEAM card
All in all, no matter you choose the Special 20th Anniversary Edition or the Standard Edition, as the release of NBA 2K19 is about just one and half month away, it is the right time for you to check where you are able to stock NBA 2K19 MT coins safely and conveniently. We
eacgame.com
could provide you the
Cheapest NBA 2K19 MT Coins
with 100% safety and quick transaction. And by the way, if you have any question, you can contact us anytime!