NBA 2K19 MT Coins News & Guides
How to Dribble, Shoot, And Dunk Balls to Score More Goals in NBA 2K19

NBA 2K19 Guide
Xbox One Games
PS4 Games
PC Games
NAB 2K19 Skill Moves
2018-10-29 08:45:11
NBA 2K19 is a basketball simulation game for PS4, Xbox One, PC and Nintendo Switch. Since its release, it has enjoyed great popularity. Except from playing intense matches and winning scores, controlling some amazing
skill moves and play
your game with your unique style is the most fun of the NBA for most players, especially those skill move help you get the upper hand on the pitch and allows you to score more points. In this article, we recommend some useful skill moves for you to better manage
offense/defense, shooting, passing
and so on. So just keep on reading.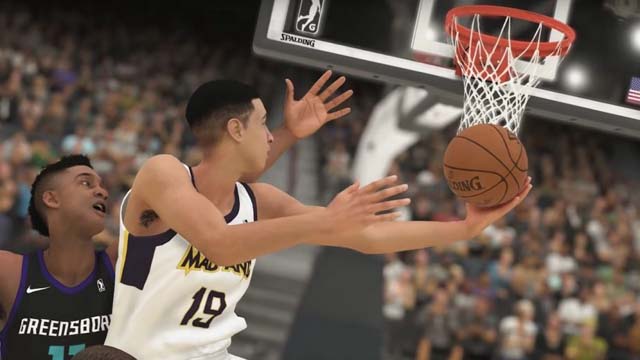 Dribbling
Master the dribbling mechanic is extremely important on the pitch and use size-ups will hugely help you dribble your ball all along to the opponents' basket more easily. For PS4 and Xbox One players, R2/RT button now acts as the trigger for size-ups in general. If you have the ball in your right hand, then you can hold the R2 button and flick the right stick to your right side in order to perform a size up. This is also true for the left side but the flick of your right stick is in the reverse order of course.
After you have a basic understanding of the size-ups, it's time for you to learn the Walking Size-Up, one of the best and most useful one by far which you can perform by simply flicking your right stick. All you need to do is to press R2 when walking and then flick the right stick up. With this skill move, you can confuse the opponent and open up unforeseen space on the court.so that you can burst forward with a massive speed boost. In addition, when you dribble your way to the basket against your opponents on the pitch, knowing how to mix your dribbling up with your passing will help you survive in the end. If you want to unlock better players, you can buy
Cheap NBA 2K19 MT Coins
from our website:
eacgame.com
, a trustworthy online in-game currency store.
Shooting
If you' ve never played NBA 2K before, you should know that you need to hold and release the Square button on PS4 or X button on Xbox One, or pull back and release the right thumb stick, if you want to put the ball in the basket. However, if you want to successfully outscore your opponents, you need to know much more than the correct buttons to mash. To shoot successfully, you need to take several factors into consideration. Such as your position on the court, your posture and your defensive pressure. Besides, you need to combine them with accurate timing. In NBA 2K 19, after shooting, you got a report at the top of the screen based on your 'Release' (which could be a variation on 'Early' or 'Late') and your 'Coverage' (which reflected how heavily contested the shot was).So learn lessons from the report and keep on practicing, one day your shooting accuracy would hugely increased.
Dunking
There are at least three kinds of basic dunk in NBA 2K19, and each requires you to sprint towards the basket by pressing R2 on the PS4 or RT on Xbox One. You can check below. When you deploy those skill moves, remember that the key to pulling off a glass-shattering dunk is to drive towards the basket.
Two-Hand Dunk: R2/RT + move and hold up the right thumbstick while driving.
Flashy Dunk: R2/RT + move and hold down the right thumbstick while driving.
Dominant or Off-Hand Dunk: R2/RT + move and hold the right thumbstick left or right (the direction determines your dunking hand).