FIFA 19 Account News & Guides
New FIFA 19 Update brings Women World Cup to The Game

Women World Cup
FIFA 19 Update
2019-06-20 15:39:13
To celebrate this year's Women's World Cup, EA Sports'FIFA 19 has dropped its latest update which includes
a free downloadable mode to play at the 2019 Women's World Cup in the game.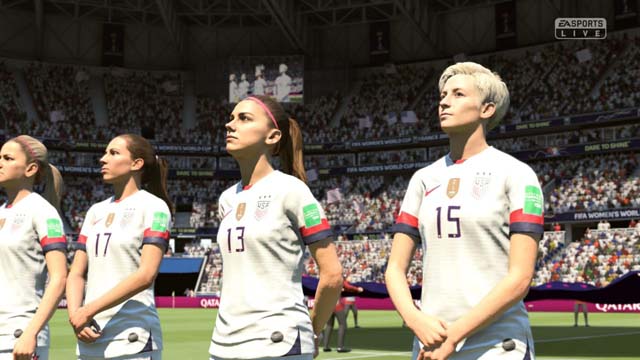 Confirmed on EA's official website, the new game mode, which is available on PlayStation 4, Xbox One, and PC, features 22 of the 24 Women's National Teams that qualified for the World Cup– including 10 new to the game – with authentic kits and crests, along with the official FIFA Women's World Cup Final match ball, stadium dressing, and ad boards. Players are now able to step out onto the pitch at the Stade de Lyon in France to experience the biggest fixture in women's football and lift the iconic Trophy just as the tournament winners will on July 7.
This Women's World Cup game mode is available to play through FIFA 19's Kick-Off section in FIFA 19 on PlayStation 4, Xbox One and PC.
So, with the Women's World Cup underway, which is the most fun Women's teams to play with on FIFA 19?
Read on for our 5 most exciting women's teams to play with on FIFA 19.
Australia
Lead by a 92-rated Sam Kerr, who is superb in the build up to shooting, with 95 finishing, 92 heading, 92 shot power and 84 long shots,Australia is for you if like scoring goals.
Canada
With a ridiculous strike Christine Sinclair, scoring 181 goals in 281 appearances for Canada in the game, Canada definitely are worth your picking.
France
Having Eugenie Le Sommer, who the 91-rated forward with 94 finishing, 91 heading, 91 long shots, 92 shot power and 89 volleys – in other words, if you shoot from anywhere with Le Sommer, you're likely to score.
Germany
If you're one for five-star skillers, then Germany and Dzsenifer Marozsan could be the team for you. The 91-rated midfielder is an amazing player to have running the game through the centre of the pitch, with five-star skill moves – one of only three women players to be blessed with that in FIFA 19.
Netherlands
There may not be a better attacking trio in the FIFA 19 women's game than the one Netherlands boast,with former The Best winner Lieke Martens, the 90-rated five-star skiller and a 84-rated Shanice van de Sanden ,the fastest woman in the game.
So, how do you think of Women World Cup in FIFA 19? Have you tried playing it yet? For more news and guides on FIFA, stay tuned to
Eacgame.com
, a professional online in-game currency store for
Cheap FIFA 19 Coins
.