NBA Live 19 Coins News & Guides
The Overall Top Rating at Each Position for the WNBA' s Best in NBA Live 19

NBA Live 19 Guide
Xbox One Games
PS4 Games
the Custom Female Players
WNBA
OVR Top Rating
2018-08-02 09:25:47
After
EA Sports
announced that the function of
Female Create-a-Player
would be added into
NBA Live 19
,
WNBA
of NBA Live has received an unprecedented attention by the basketball fans, especially the female fans. Now, we list the players at each positions who own the
overall top rating
in WNBA of NBA Live 19.
First of all, let's see the position of Point Guard
. At this position, the player who own the overall top rating is
Sue Bird
of Seattle Storm with a rating of
89 OVR
. Sue Bird has been selected into 11 All-Star Games and 8 All-WNBA teams. The records that she set in the WNBA for most regular season games and for all-time assists are also contribute to her world fame. As one of nine women has own an Olympic Gold Medal, an NCAA Championship, and a WNBA Championship at the same time, she was voted by fans as one of the WNBA's Top 15 Players of All Time. Bird is also viewed as one of the best passers in NBA Live game.
Then, with regard to the position of Shooting Guard
.
Diana Taurasi
is the leading player at this position. She plays for Phoenix Mercury and own a rating of
90 OVR
. As a women has won three WNBA championships (2007, 2009, 2014), one WNBA Most Valuable Player Award (2009), two WNBA Finals MVP Awards (2009, 2014), four Olympic gold medals, (2004, 2008, 2012, 2016), five scoring titles (2006, 2008, 2009, 2010, 2011), and the WNBA Rookie of the Year Award (2004), Diana Taurasi is another living legend in the WNBA world. On June 5, 2018, Taurasi became the WNBA all-time leading scorer with 8,000 points.
After the introduction of two top players of the positions of Guard, let's come to the position of Forward.
At first, we will introduce Small Forward
. When we talk about the position of Small Forward, it is a must for us to mention
Maya Moore
who own the highest
93 OVR
rating among the players that we have mentioned today. Since 2011, Maya Moore has won the champ every odd-numbered year and she has spent her entire career for the Minnesota Lynx. In addition, at the same season, Moore won the WNBA scoring title and been elected as one of the All-Defence. Moore is a so well-rounded player.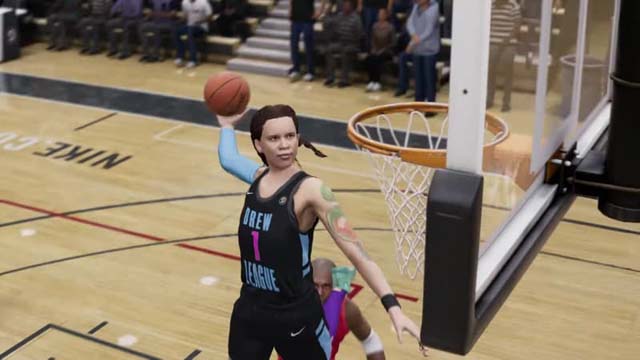 Then, it is Power Forward
. I can't help to ask "Do you remember
Candace Parker
?" I'm sure that most of you must still have a impression about her because we have just mentioned her in the previous news about the Female Create-a-Player. In here, Canca Parker is the top Power Forward with a
92 OVR
rating. Candace Parker is a member of NBA Live Squad and she is a prolific player. What's more, since she carries a skill set that is totally uncommon with the traditional bigs, the WNBA adopted the concept of position-less basketball much before the NBA transitioned over to it. Parker's guard skills really extend into everything from her dribbling to her passing, but she can also use her size to show her inside scoring touch.
Finally, the last position we discuss is Center.
The top Center is
Sylvia Fowles
with a rating of
92 OVR
, who takes the throne for centers in NBA Live 19 in last year's MVP and led the Lynx to last year's WNBA Championship. In May, Fowles made a record with 23 points, 20 boards, and five steals, which was the first 20/20/5 game in WNBA history. Fowles is called the most dominant big.
NBA Live 19 will be available on September 7 on Xbox One and PlayStation 4
around the world and you can see the figure of Candace Parker in
The One
. And now, it is the time for you to buy some coins in advance. Considering the
Cheap NBA Live 19 Coins
,
eacgame.com
is a good choice for you with its
100% secure payment and fast speed of transaction
. By the way, the discount that eacgame.com provides is also exacting and unprecedented!