Madden NFL 19 Coins News & Guides
Beef Up Your Ultimate Team Roster with The Latest Madden 19 TOTW 9 Legends Now

Xbox One Games
PS4 Games
PC Games
Madden NFL 19 TOTW
2018-11-07 08:56:23
As always, each Monday, there are a total of ten NFL players selected for the Team of the Week based on their performances during the current week of the NFL season. At the moment,
Team of The Week 9
is now live in Madden Ultimate Team. Get these guys on your MUT roster now and watch your OVR rise. You can check the following image for new player cards of the league's biggest athlete this week. If you want to have those elite players added to your roster, come to
eacgame.com
for
Cheap Madden NFL 19 Coins
.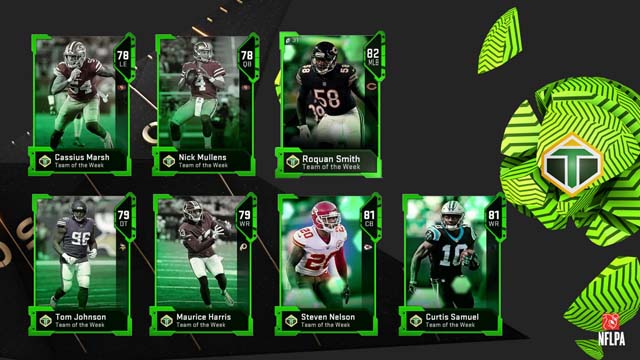 Madden 19 Team of The Week Walkthrough
Ultimate Team, the card-collecting competitive mode in EA Sports' cadre of sports sims, has become one of the most popular features in Madden. It' s always a deep experience that gives you the childhood feeling of opening packs of sports cards along with having a resemblance to fantasy football. Here is a breakdown of exactly how the Team of the Week program works in MUT 19. Each Monday, there are a total of ten NFL players selected for the Team of the Week based on their performances during the current week of the NFL season. One of these players is limited edition (in packs until Wednesday morning), one is a set reward, and the remaining eight are available in packs all week.
There are two sets associated with each Team of the Week release. The first is the Hero set which requires four TOTW player items from packs and the Game of the Week collectible also from packs. Completing the set unlocks that week's TOTW Hero player item. The other set takes in the four player items from packs not included in the Hero set and rewards one of the players needed for the Hero set. Additionally, each week there is a new Team of the Week solo challenge that rewards 2,500 coins and a TOTW Master collectible used in the TOTW Master set.
Tips and Tricks for Leveling Up Quickly in Madden 19 TOTW
Focus on Your Team Chemistry
In Madden 19, since it' s rare (maybe impossible) to find a card with a pre-selected chemistry, you have to spend Training points to unlock chemistry, which is pretty easy and you can see chemistry upgrades are right there in a card' s upgrade menu. After unlocking chemistry, you can press RT/RB to look at the team chemistry requirements for increased stat boosts. If you have a lot of players from one team (at least five), you receive automatic chemistry boosts. If you click on Offensive or Defensive Scheme in the chemistry menu, you can use training points to unlock chemistry boosts for certain types of players. By the way, to unlock the best players, you can buy
Cheap Madden NFL 19 Coins
from our website:
eacgame.com
, a cheap, trustworthy online in-game currency store.
Do complete Solo Challenges
Solo challenges are the best way to improve your team quickly. By completing those challenges, you're rewarded with both Training and better cards. From there you can start your way to Campaign challenges, Legends challenges and so on. Each completed solo challenge will increase your overall MUT experience and net you in-game currency to spend in the store. As you level-up, you also receive periodic rewards, including both Training and card packs. Best of all, while some of the challenges are permanent fixtures, others switch each week, so there's almost always a useful challenge to complete.