Madden NFL 19 Coins News & Guides
To Relocate Teams in Madden NFL 19, Here's What You Should Know

Madden 19 Guide
Xbox One Games
PS4 Games
PC Games
2018-10-19 08:36:08
Relocation
is the go-to strategy if you want to have a franchise in your own backyard. There are many reasons for you to relocate and often times; it can be what saves your franchise. Let us look at how to relocate teams in Madden NFL 19.
Once you know how to relocate teams in Madden NFL 19, you will be able to utilize it whenever you want. However, it is important to remember that you can only relocate if you are the owner of your franchise and not as a coach or a player.
To relocate in Madden 19, you must play the game in
Owner mode
. So that you' ll have access to the full breadth of team micromanagement options, from relocating the team to controlling concessions and sales.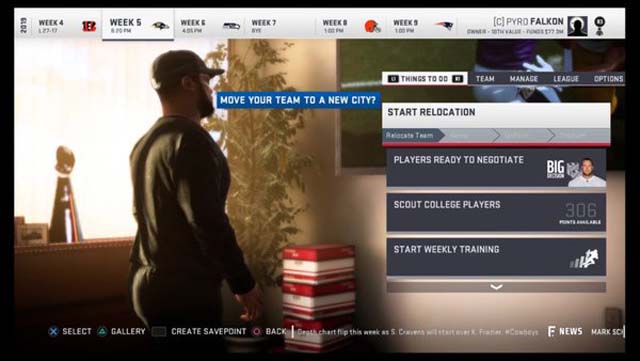 To start the process, go to "My Owner" in the Manage section of Franchise Mode and then go to Stadium, from where you can see a relocate your team option.
The process doesn't start right away. You have to wait a few weeks for the game to determine if your team is eligible to relocate. For example, if you're a team that just got a new stadium, you're not going to be successful in relocating, it is possible to fail. If you qualify for a relocation, you can see its option in Week 5.You can preview the available cities and then lock in your choice to relocate.
Once you have relocated, you cannot go back on the process.In the beginning, you will need to select a city to relocate to. Cycle through the cities (3 of them are outside the US) and select one of them.You need to be able to recover lost money when you move to a new city so choose a city with interest in NFL or you will end up broke.The interest, market size, and personality are 3 factors that you need to look for when deciding which city you want to relocate to.
After you have decided on which city you want to move to, you can choose the logo and the name of your team during the 6th week.You can also choose to have the same logo and the same name or move to have the name of the city that you are moving to. In the 7th week, you will be able to select your uniform and you will have a popularity poll to help you with it. By the way, you can buy
Cheap Madden NFL 19 Coins
from our website:
eacgame.com
, a trustworthy cheap online in-game currency store.
During the 8th week, you will come to the final step which will have you selecting a new stadium. The easiest way to succeed in moving a team is to pick a team that has an old stadium, or if you insist on relocating a specific one regardless of their current stadium situation, fast forward many years into the future and let the stadium get outdated. Once you have done all of this, you will relocate to your next stadium in the next year.
Knowing how to relocate a team in Madden 19 is an important aspect for your team's success as an owner. Keep in mind, it may seem challenging to get each task completed, but hang in there. Soon enough, you'll have your new fanbase and a respectfully improved franchise in the game!if you still have doubts about it, just check the video above.